Prices for hotels in Kota Kinabalu, Kuching, Miri
Hotels in Kota Kinabalu
As throughout Malaysia, budget options are quite expensive, and start at 11,8 USD = 50 MYR per room for two people with a shared bathroom and shower. Guesthouses from 4,7 USD = 20 MYR per bed.
kinabalubackpackers.com - good and relatively inexpensive hostel with a choice between dorm and private rooms. The price includes a minimal breakfast (toast with jam) and a decent internet connection. Central location in the city.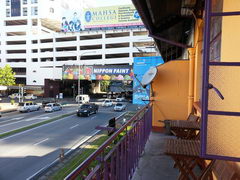 Hostel Kinabalu BackPackers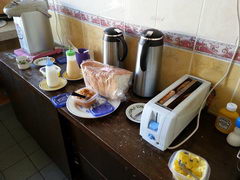 Breakfast at the hostel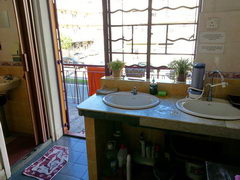 In the kitchen of the hostel Kinabalu BackPackers
Tune Hotels - (division of AirAsia) is located in 1Borneo. Cost for reservation in advance from 7,8 USD = 33 MYR for a double room.
Holel prices in Kuching
As elsewhere in Malaysia, the price level of budget accommodation well above the average. For double room 11,8 USD = 50 MYR is considered cheap, while its quality may surprise you sad. A remarkable exception to the rule is the system of Tune Hotels (devision of AirAsia). For 7,1 - 9,4 USD = 30 - 40 MYR when booking in advance you get a real hotel room for two.
Laundry service in Kuching
New, but quite expensive laundry opened in the center of Kuching. Coordinates: 1.557678,110.348029 (opposite the Chinese churches). Internet Wi-Fi is included in the cost of washing.
Cost per 10 kg:
Cold water

1,2

USD

= 5 MYR

Warm water

1,4

USD

= 6 MYR

Hot water

1,7

USD

= 7 MYR
Hotels in Miri
There is a large selection of guest houses and hotels. Good guesthouse from 15,3 USD = 65 MYR for a double room with a hot shower (good pressure) and toilet in the room, as well as the Internet. For reservations use Agoda or AsiaRooms. If you need more information, as well as photos and reviews of hotels, TripAdvisor is the most objective and reliable source of information.
You can view prices, book accommodations and read about the pros and cons of various hotel search engines in my review of hotel and apartment reservation systems
Read more:
Borneo
−
Kuching
+
Kota Kinabalu
+
Miri
+
Kuala Lumpur
+