Attracions in Kuching: Fairy Cave, excursions prices and free museums
Fairy Cave
Fairy Cave - A huge cave witch you can visit easy. Admission is free.
How to get fairy cave by bus
Leave Kuching bus station in the morning, as early as you can. Bus №2 will take you to the bus station Tandas Awam (Location: 1.41795, 110.15489) to the town Bau for about half an hour. At the bus station you can take the local bus №3 to the Krokong. Tell the driver "Fairy Cave", and he will drop off you at the crossroads in 8 km from the city center ( Location: 1.377107,110.127447 ). Ask the driver when he will return, and in what time he will take you back from this crossroads. At the crossroads you will see a sign indicating that the cave 300m. In fact, you will need to walk about a mile. Location Fairy Cave: 1.38192, 110.11730.
Important: as elsewhere, especially in Asia, it is not good to rely on 100% on accuracy and fidelity of a schedule. Buses can easily not only late, but also absent, particularly extreme in the schedule!
Photos of buses to fairy cave
The cost of excursions about the river
Various river excursions 4,1 USD = 19 MYR
Free museums in Kuching
Toutist information center in Kuching
The information center for tourists. Will provide upon request the information you need, maps, schedules, etc. (Location: 1.559517,110.345076.)
Beach Damai
Location: 1.748036,110.312519. The fare one-way 2,1 USD = 10 MYR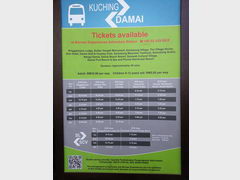 Shedule of buses to the beach Damai
Read more:
Borneo
+
Kuching
−
Kota Kinabalu
+
Miri
+
Kuala Lumpur
+