10.01.2021
Entertainment and transport in Zargeb in Croatia
Zagreb - what to see, how much are tickets
Free attractions
The central area of Ban Jelačić with the monument to Josip Jelačić. The coordinates 45.813182, 15.977333 . Nearby is the Dubrovnik Cathedral and St. Stephen's and Vladislav . This beautiful cathedral with night illumination. The old town is recommended to visit in the evening.
It is also recommended to vizit square with Saint Mark's Church. Coordinates: 45.816323, 15.973690. Note: relatively close is Ribnjak Park. Coordinates: 45.816765, 15.980139. Visit the best King Tomislav square, coordinates 45.806108, 15.978636. Also pleasing Art Pavilion in Zagreb, located in the same area.
All additional information can be found on the website of Tourism Zagreb: zagreb-touristinfo.hr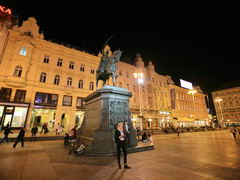 The central square of Ban Jelačić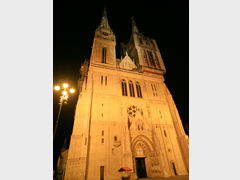 Cathedral of the Assumption of the Virgin Mary and St. Stephen's and Vladislav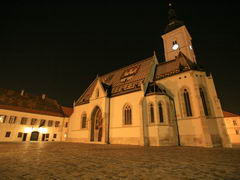 Saint Mark's Church
Plitvice Lakes
When planning your trip, do not forget to consider the opportunity to visit the natural park The Plitvice Lakes National Park.
The ticket price depends on the season. An example of the cost of an adult ticket for 1 day:
Summer + September

48,5

USD

= 300 HRK

April, May, October

29,1

USD

= 180 HRK

November, December, January, Ferral, March

12,9

USD

= 80 HRK
There are various categories of discount tickets. So de discount for a 2-day ticket.
You can get to the Park by bus. Official website with prices for different ticket categories: www.np-plitvicka-jezera.hr
Sites for booking excursions
Read my review of useful websites to buy tickets for sightseeing tours and attractions
Local transportation in Zagreb
Public transportation fares
One trip

1,6

USD

= 10. HRK

at night

2,4

USD

= 15 HRK

1 day travel

4,8

USD

= 30 HRK

3 days

11,3

USD

= 70 HRK

7 days

24,2

USD

= 150 HRK

30 days

64,6

USD

= 400 HRK
More information at zet.hr/
Rent a car and parking
Examples of prices from international rental companies when booking in advance for 1 month for 10 days. For full insurance without a franchise, a surcharge of 10,9 USD = 9 EUR per day p>
Opel corsa, mechanic

15,7

USD

= 13 EUR

Vokswagen golf, automatic

18,2

USD

= 15 EUR
Compare car rental prices at various rental companies and book a car with the world's largest international service Rentalcars
The cost of parking is strongly dependent on the location. In cheap, not central places, the cost per hour is 0,48 USD = 3 HRK and 9,7 USD = 60 HRK for 24 hours.
Bike rental
The cost of renting a bike about 0,97 - 1,29 USD = 6 - 8 HRK per hour and 11,3 - 16,2 USD = 70 - 100 HRK a day.
Read my review of useful websites to choose the right means of transport for your travel
Read more:
Zagreb
−
Dubrovnik
+
Trogir and Split
+