Low-cost car rental in Scotland, features of driving and parking
Renting a car is one of the most convenient ways to travel around the country with the ability to stop where you liked. For example, not at hotels, but at private owners, which is a tremendous cost savings for housing and also makes it possible to spend the night in castles or farms. But you need to know about some of the little things that are common for Scotland:
Features of automobile traffic in Scotland
Left-hand traffic
Left-hand traffic is what the driver should remember when driving, for beginners the first 2-3 hours will be extremely difficult, but on the second or third day you get used to it. You don't only have to travel around the city on the very first day, it's better to go out of town with fewer cars in the shortest way.
Miles
Speed ​​and distance limits for the city are indicated in MILES.
Potholes on the road
Scotland is famous for its potholes on the roads and repair services endlessly patching them. In practice, this means that if you come across this, then you have to stand for an hour in traffic, consider this when planning.
Features of car rental
How to find a cheap rental
World-famous offices such as HERTZ are very expensive in this country, look for local companies such as "Green motion car rental", where car rental for 4 days was 42,4 USD = 40. EUR Company website greenmotion.com They gave for this cost (after long and rather tedious battles with the company managers for the right to pay nothing more) a completely new medium-sized diesel car with a consumption of 4.5 liters, which saved money for fuel greatly.
Compare car rental prices at various rental companies and book a car with the world's largest international service Rentalcars
Mileage limits
In car rental companies, good prices are given for cars with RESTRICTED mileage (usually 95 miles per day), pay attention to this and if you need to go to the northern part of the island, take a car for a longer period and calculate the approximate distance which you are going to drive. An extra mile (over the limit) is paid in the amount of 0,31 USD = 0.25 GBP per mile (plus taxes and possible administrative fines). When traveling outside the country, the fee doubles.
High deposit for a car
It should be borne in mind that the deposit for the car, taking into account the fact that you do not pay the company additionally for insurance (in those cases when you already have your own), is one of the highest in the world and can easily be 3 138,5 USD = 2 500 GBP ( compare with the standard 200 USD in North America). Please note: if you do not have a loan of this level or if for any reason your credit company refused this transaction, you will be offered only one, the most expensive option with an additional purchase of their most expensive insurance, which can average an additional 37,7 USD = 30 GBP per day .
There are a lot of rules and penalties in car rental companies, read the rental conditions carefully. For example, drivers aged 21-24 will have to pay an additional 62,8 USD = 50 GBP for youth, a fine for late delivery of a car 45,2 USD = 36. GBP etc.
Inspection of the vehicle
A thorough inspection of the car for scratches and dents is recommended when signing a contract with a car rental company. You will have to sign a paper confirming the inspection of the car with the proper level of lighting, not wet coating and providing you with additional lighting at the time of inspection. Do not be shy, and inspect the car so carefully and without rushing, how much time is available to you. When returning the car, employees of the company can arrange a real inspection of the car with the use of powerful lamps. You have to pay exceptionally high costs to eliminate all the damages. They find fault with very small injuries, especially invisible scratches. Do not forget to inspect the condition of even the underbody and especially the wheel arches, as well as the interior condition of the passenger compartment and especially damage to the upholstery, including even the luggage compartment. Wheels are also required to inspect.
Cost and features of parking in Scotland
Street parking in cities
Parking in the cities costs 0,25 USD = 0.20 GBP for 15 minutes in the first hour and 0,50 USD = 0.40 GBP for 15 minutes in the following hours.
Penalty for failure to pay
75,3
USD
= 60. GBP
Parking near attractions
Near the entertainment and research centers, you can find parking with hourly or daily rates, there parking for a longer period is much cheaper:
1 hour

3,8

USD

= 3 GBP

up to 9 hours

6,3

USD

= 5 GBP

up to 12 hours

8,8

USD

= 7 GBP

in 24 hours

17,6

USD

= 14 GBP
The coordinates of one of these parking lots in Glasgow: 55.856613, -4.292282
Entrance and parking on the territory of castles with large gardens is paid and costs around 5 USD = 4 GBP for 4 hours.
Near supermarkets
Near supermarkets you can find free parking, but parking time is usually limited to 2-3 hours.
Charging for electric vehicle
If you have an electric car, the good news is for the owner - often there is free recharging in parking lots.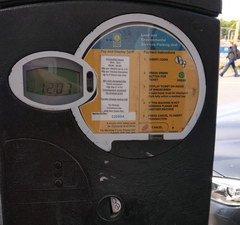 Parking machine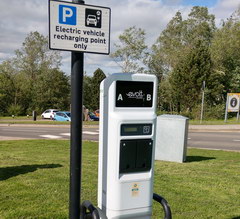 Charging for an electric car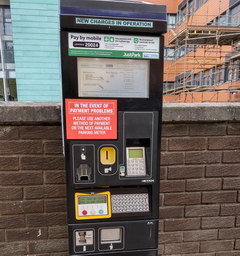 machine with the ability to pay by card and phone through the application
Gas prices in Scotland, as well as auto services
The cost of gasoline

1,6

USD

= 1.25 GBP

per liter
The cost of a diesel engine

1,7

USD

= 1.32 GBP

per liter
Car wash
Car wash on your own

1,2

USD

= 0.99 GBP

Automated car wash

7,5

USD

= 6 GBP
City bike rental
Bicycles are another great way to explore the city. Bicycles come in two types, pedal and electric. Rental Price:
A simple bike costs

1,3

USD

= 1 GBP

in 30 minutes or

12,6

USD

= 10 GBP

in 24 hours.
Electric

2,5

USD

= 2 GBP

in 20 minutes or

37,7

USD

= 30 GBP

in 24 hours.
A bicycle is worth saving, since a

251,1

USD

= 200 GBP

fine for damage to an ordinary one is large and

627,7

USD

= 500 GBP

for an electric one.
For more information on rental conditions and discounts, visit nextbike.co.uk a>