Prices for attractions in the Maldives and services for tourists
Entertainment in Male
What are the prices for tours and excursions
Morning fishing

30 - 70

USD

per person for 2 hours.
Night Fishing

25 - 55

USD

per person for 2 hours.
A trip to watch dolphins in the sea

35 - 65

USD

per person for 2 hours.
Dinner on the island for two

200

USD

Snorkelling and turtle watching

40 - 70

USD

per person, per hour.
Snorkeling

30 - 65

USD

per person.
Visit the resorts of the Maldives during the day

100 - 200

USD

per person from 9 am to 5 pm, includes food.
The tour on a submarine at a depth of 45 meters length of 45 minutes.

120

USD
WARNING - All on the tour price are added on top of 22% - tax and tip!
Photos of beaches in the Maldives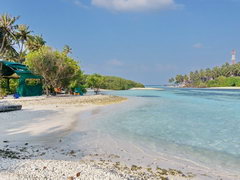 BIKINI beach on the island Guraidhoo (allotted small island)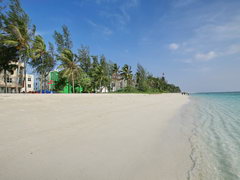 Hulhumale beach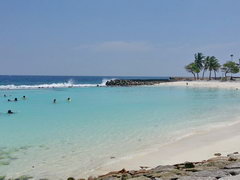 beach on the island Male
Places to visit in Male
Read my review of useful websites to buy tickets for sightseeing tours and attractions
Services for tourists
How much is a cellular communications in the Maldives
Ready working SIM cards are sold to tourists at the airport.
Packages for

10 - 66

USD

internal calls cost

0,10

USD

minutes.
Internal SMS for

0,01

USD

international SMS

0,06

USD

Internet traffic is also included in these packages.
Prices in the barbershop
haircut in a hairdressing salon

6,5

USD

= 100 MVR

Hair coloring

16,2

USD

= 250 MVR

Hair Treatment

97,3

USD

= 1 500 MVR
Currency exchange in the Maldives
A feature of the exchange of cash currency in Maldives is a small extra charge plug. It is especially advantageous to exchange local currencies for US dollars. It should be noted long queues and some confusion in the banks, so take your time and patience.