Transport of the Maldives - ferries, boats and the airport
The main airport of the Maldives - Brahim Nasir International Airport
The main international Ibrahim Nasir International Airport airport is located in the neighborhood of the capital Male, on the neighboring island Hulhumale. The main low cost airlines, whitch can take you to the Maldives is AirAsia and SpiceJet.
All flight options from your departure city on OneTwoTrip
Read my review of useful websites to choose the right means of transport for your travel
Examples of services and prices at the airport
Massage in a spa salon at the airport

0

USD

pedicure

0

USD

to take a shower

0

USD

Luggage storage cost

4,9 - 9,7

USD

= 75 - 150 MVR

per item of baggage within 24 hours
How to get from the Airport to Male Island
By boat
To the Male from the airport is possible to reach by speedboat, price 1,6 USD = 25 MVR time less than 10 minutes.
By bus and ferry
Alternatively, you first need to take a bus to Hulhumale for 1,3 USD = 20. MVR and then a regular ferry for 0,36 USD = 5.5 MVR Bus departure with half-hour intervals. The bus stop is located on the left from the airport exit, about 50 meters along the promenade (the coordinates of 4.187784, 73.526361).
Hotel's own boat
Some luxury hotels have their own waiting rooms at the airport, as well as its own high-speed boats.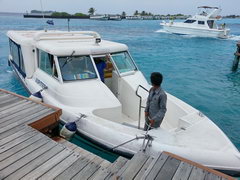 Speed boat from airport to Male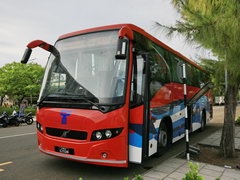 The bus from the airport to the Hulhumale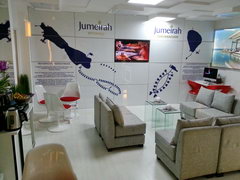 Waiting room of luxery hotel
Buses in Male
The cost of buses within islands Male and Hulhumale 0,19 USD = 3. MVR hours from 6 am to 3 pm.
Water transport of Maldives
Ferries, boats, all that floats is the main transportation in this island country. Ferry traffic is well established, and for a small fee you can get to remote atolls, but for a long time. On the website atolltransfer.com you will find all the routes, timetables and prices sometimes.
How to buy a ticket for a ferry and the fares
You can buy a ticket just before departure. For example, the cost of the ferry ticket Male - Guraidhoo is 1,4 USD = 22. MVR It departure every day at 15.00, arriving to Guraidhoo at 17.25. Back at 7:00, arrives in Male at 9.15.
Schedule of all main routes from/to Male on Maldives
Location of sea ports in Male
In the port terminals there are always drinking water, so it is advantageous to have a bottle.
Friday - day off for ferries
On Friday, for most types of ferries - a day off, go only ferries between Male - Hulhumale, with a break for lunch. This means that if you arrive on Thursday, and not catch the ferry, you can get your island only on Saturday. The alternative is a high-speed boat, but the prices are very high, 0 USD for a short distance. The second factor - seasickness