Attractions and Excursions in Jordan with prices
Jordan is a country where tourists go for historical and natural attractions. They are scattered throughout the country, many of them are on the UNESCO list. However, the entrance for Jordanians is almost always 2 times cheaper than for non-Arabs.
Jordan Pass
To visit museums, Petra, Wadi Rum, fortresses, it is advisable to purchase the Jordan Pass, which is valid for 12 months from the date of purchase and 14 days from the date of its activation.  Especially beneficial for those arriving in Amman, then a visa worth 56,4 USD = 40 JOD will already be included in your Pass and at the border it will be enough to show it to the border guard.
The cost of the Jordan Pass varies depending on how many days you plan to visit Petra:
if one, then

98,7

USD

= 70 JOD

2 days

105,7

USD

= 75 JOD

3 days

112,8

USD

= 80 JOD
Processing Fees account for 2.825% of the total! Pass is acquired before crossing the border, paid for on the site and be especially careful here   as in Jordan, theft of credit card information is common when paying online.   It is recommended to use a virtual card with a minimum limit that simply allows you to make a one-time payment!
Jordan pass activation occurs when you first visit any object that requires its presentation.  However, in reality, pass scan only in Petra, and even then not always, and 14 days will go only from the moment of the first scan.  For all other places, you can print as many copies of the pass as you want, and each one will receive just a separate stamp.
For details, see the official website. jordanpass.jo
Petra
Petra is on the UNESCO list, considered the seventh wonder of the world. Visiting for tourists who are in the country for more than one day, if not Jordan Pass
70,5

USD

= 50 JOD

for 1 day,

77,5

USD

= 55 JOD

for 2 days,

84,6

USD

= 60 JOD

by three.
Official site visitpetra.jo
Tips for visiting
It is recommended to start the visit in the morning, since after lunch the tourist buses from Amman and Aqaba arrive. In the park there are free toilets near the main attractions. Overnight on the territory of Petra is prohibited, you need to have time to leave the park before closing. Do not forget to bring a card at the entrance. Issued free of charge in many languages Map of Petra
It is also recommended to take with you water, snacks and wear comfortable shoes, since the area of thr archaeological park is huge, the change in temperature from the height difference is noticeable. Before visiting it is better to know about the weather conditions in advance, as during heavy rains the park is closed for visiting. The climb to the Monastery is pretty cool, so it is recommended to have Scandinavian walking sticks.
Prices inside Petra
Get a local guide to Petra:
for 4km

70,5

USD

= 50. JOD

for 8km with a visit to the monastery

141

USD

= 100 JOD

per group.
A trip in a wheelchair for two for a round trip: to the Treasury 28,2 USD = 20. JOD to the Museum 56,4 USD = 40 JOD
The cost of 0.5l of water in Petra

1,4

USD

= 1. JOD

coffee

2,8

USD

= 2. JOD

juices

4,2

USD

= 3. JOD

sandwiches

4,2

USD

= 3 JOD
Wadi Rum Desert
The visit is included in the Jordan Pass, without it the cost 7 USD = 5 JOD Wadi Rum Desert Map
Car Charges
If you are going to drive a rented regular car (not recommended!) 28,2 USD = 20 JOD per day, If you rent a 4WD jeep 49,3 USD = 35 JOD for the day (that is, you already have a rented jeep, but you have to pay for the ride in the desert!)
Overnight in the desert
If you plan to visit the desert overnight (highly recommended if you have time), you can stay in one of the huts, the convenience of which varies from a bed in a dormitory for 19,4 USD = 18 EUR per person to the level of a suite with a glass roof over the bed. Breakfast is included in the price.
Camel Ride
If you want to cross the desert on a camel, then you will find enough drovers in front of the entrance.
For half an hour

7

USD

= 5 JOD

5 hours

28,2

USD

= 20 JOD

to a distance of 25km
if you want to ride all night

84,6

USD

= 60 JOD
On the road to the desert you can visit the railway station with the old train. The locomotive and wagons are open to the public. Coordinates 29.6994,35.3967
Canyon Mujib Adventures Center
Mujib Adventures Center - a natural landmark located in the canyon gorge on the shores of the Dead Sea (coordinates 31.467015, 35.572851) The depth of the canyon reveals several geological eras, soil exhibits in the photo
Walking tour of the canyon with a guide of 5 people (over 18)

29,6

USD

= 21 JOD

people for 3-4 hours
Zipline (descent on a steel rope)

16,9

USD

= 12 JOD

per person
Climbing

16,9

USD

= 12 JOD

per person
A site with a detailed description of excursions and entertainment wildjordan.com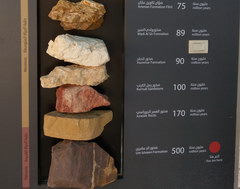 Geological exhibits of the canyon Mujib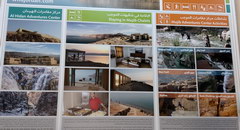 types of hiking depending on the level of difficulty of the relief.
Dead Sea
To the Dead Sea there are several free and wild passages where you can find healing mud right on the shore. There are 3 such places
For a wild swim in the Dead Sea, bring plenty of fresh water with you to rinse seawater or wash yourself in the streams, as seawater does not dry out and the salt concentration is so high that there are stains on your clothes. Swim is not recommended, especially on the stomach.
There is a museum at the lowest point of the earth (coordinates 31.050310, 35.502102). The visit is included in the Jordan Pass, without the entrance 2,8 USD = 2. JOD
On the territory there is a museum, a cave with ruins, a cafe with a terrace overlooking the Dead Sea, the level of which since 2012 has dropped even lower.
Attractions in Akba
Ancient ruins of Aqaba from the 12th century. Apparently, the visit is included in the Jordan pass, but the caretaker asked 1,4 USD = 1 JOD
Cruise trips from Aqaba.
Dinner on the ship

35,2

USD

= 25 JOD

90 min riding on the Red Sea

21,1

USD

= 15 JOD

3 meter submarine ride (lunch included)

77,5

USD

= 55 JOD

Four-hour ride on a sailboat with lunch

40,9

USD

= 29. JOD

per child

16,9

USD

= 12 JOD
Diving with PADI Specialists:
For non-certified divers

105,7

USD

= 75. JOD

snorkeling

63,4

USD

= 45 JOD

For certified one dive

84,6

USD

= 60. JOD

two

126,9

USD

= 90. JOD

third

28,2

USD

= 20 JOD

(full equipment is included in the price),
night dive

70,5

USD

= 50 JOD
The price includes travel, lunch, drinks and a snack between dives.  If you dive with your equipment and rent only cylinders and cargo, then prices will be lower by 14,1 USD = 10 JOD
Aqaba's south beach is a suitable place for self-snorkeling, free to visit, with free parking.
More sights of Jordan
Kerak Castle - a historic castle from the 14th century. Coordinates 31.180717, 35.701587 ticket

2,8

USD

= 2. JOD

however it is included in the Jordan pass
Shobak castle, 13th century ruins. A visit is included in Jordan Pass, coordinates 30.531457, 35.561045
Dead Sea Museum.

2,8

USD

= 2 JOD

per person, coordinates 31.629568, 35.585377
Tour Prices
Excursions with a guide (price for a group of 1-4 people, transfer included):
for 12 hours to Petra from a hotel on the Dead Sea or Amman

0

USD

entrance to Petra

0

USD

per person extra

0

USD

group tour in Amman, transfer included
Jordan's holy places, Mount Nebo, Madaba, baptism site

0

USD

Ma'in hot springs

0

USD

per person. (input enabled)
3 hour trip to the Dead Sea

0

USD

(with drinks)
Excursions from Aqaba with a guide (transfer, entrance, lunch included):
to Petra

0

USD

per person, for 8 hours
to Petra and Wadi Rum

0

USD

per person, for 12 hours
Sites for booking excursions
GetYourGuide Booking excursions and tickets for events
Muzement - Excursions, attractions, and more.
Read my review of useful websites to buy tickets for sightseeing tours and attractions
Shopping and souvenirs - what to bring from Jordan
Amman Souvenirs
If you are not far from Amman or the Dead Sea, you can visit Samarah Mall (coordinates 31.7226,35.5906), where there are souvenir shops with cosmetics from the Dead Sea salts, a supermarket and restaurants.
Cosmetics with the addition of dirt and salt from the dead sea in specialized stores, there is an opportunity to put probes on the body before buying goods:
Body scrub with salt

49,3

USD

= 35 JOD

per 300g
Body oil

49,3

USD

= 35 JOD

per 200ml
Dead Sea Mineral Mud

14,1

USD

= 10 JOD

for 300g
Body lotion

42,3

USD

= 30 JOD

per 200ml
Dates

35,2 - 42,3

USD

= 25 - 30 JOD

per kg, same dates, but in the supermarket

22,6

USD

= 16. JOD

Large dates

6

USD

= 4.250 JOD

for 15pcs
Coffee

8,5

USD

= 6 JOD

for 250g in souvenir shops, it is

4,2

USD

= 3 JOD

in the supermarket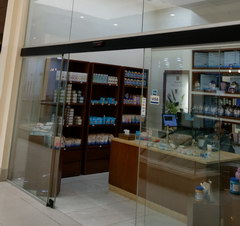 Cosmetics from the Dead Sea in souvenir shops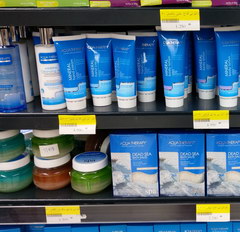 Cosmetics from the Dead Sea in a supermarket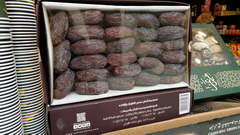 Dates in the gift shop
Cosmetics from the Dead Sea can be bought in the supermarket, there the packaging will not be as elegant as in the souvenir shops, but the prices are exactly lower:
Bath salt

2,8

USD

= 1.990 JOD

for 250g
Mineral Hand Cream

7

USD

= 4.990 JOD

per 100ml
Mud face mask

1,8

USD

= 1.250 JOD

for 16 packs of 50g
Please note if there is a tax refund through the Tag tax-free system in the store where you are shopping. If you purchase more than 70,5 USD = 50. JOD you can get an invoice and return the tax at Amman airport. Terms of purchase, tax refund can be found on the website of this system tagtaxfree.jo
Souvenirs and Shopping in Wadi Rum
Magnets

1,4

USD

= 1 JOD

for 4pcs, photo 34
Women's jewelry from

1,4

USD

= 1 JOD

Beach slippers

1,4

USD

= 0.99 JOD