Review of hotel prices in Nha Trang in Vietnam
Seasons: summer - high season because of the influx of local Vietnamese tourists. Winter - the influx of foreigners. We can not say that prices fluctuate greatly due to seasonality, but with free rooms in certain categories of hotels and guest houses can be a problem.
Cheap hotels and guesthouses in Nha Trang
Minimum prices for small rooms, air conditioning, internet access and daily housekeeping 6,4 - 8,6 USD = 150 000 - 200 000 VND Almost always it is a private guest houses belonging to the families of Vietnamese. I advise you to pay every day, as this will free you from the headache, as well as the price change at the final calculation.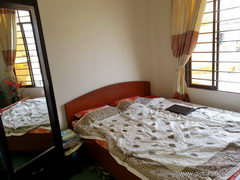 Budget hotel in Nha Trang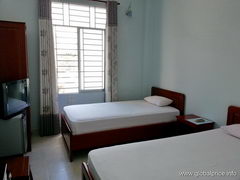 Inexpensive housing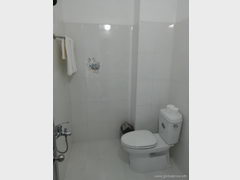 At the guesthouses shower is usually combined with a toilet
Average price category
Average price range for hotels are around 12,8 - 17,1 USD = 300 000 - 400 000 VND There may already be euro-level rooms with breakfast included (minimal). Often (but not always) will be even better to reserve such hotels with booking sites such as agoda.com But it is always safer to choose a room yourself than to pay in advance and get a pig in a poke, that often happens in Vietnam. Hotels from 3 to 5 stars are on the coast, as well as on the islands. The cost ranges from 50 USD to 500 USD per night.
Samples of hotels
You can view prices, book accommodations and read about the pros and cons of various hotel search engines in my review of hotel and apartment reservation systems

Renting for a long term in Vietnam

When renting apartment for a long term (more then one month), look for labels "Serviced Apartment". Prices vary greatly on the type and location of flat, but not strongly depend on condition. Prices for a studio start at 175 USD per month, on average, about 300 - 400 USD Additional charge for electricity per kilowatt 0,17 USD = 4 000 VND and sometimes for the water. Housekeeping and linen change is carried from one to three times a week. Sometimes there are additional discounts on rent from 3 months or more

Read more:

Nha Trang

−

Mui Ne, Phan Thiet

+

Phu Quoc island

+

Dalat

+