Transportation in Kyrgyzstan and Bishkek: airport, bus and train
International Bishkek Manas Airport
International airport "Manas" is about 20 km from Bishkek. The airport is small, has been recently renovated, there are cafes and small shops. If you come with a reserve, then you do there will be nothing.
How to get the airport
You can reach it from the city on a comfortable and clean minibus number 380 for 0,50 USD = 40. KGS Coordinates of the bus stop: 42.877647, 74.575208. Minibus is 40 minutes as stops along the way in the villages.
Public transport of Bishkek
In Bishkek, there are buses, trolley buses and taxis. Fare 0,10 USD = 8 KGS for trolleybus and bus, and 0,13 USD = 10 KGS for a minibus. Minibuses go more often, the covering area much wider. Payment on exit
Intercity buses in Kyrgyzstan
The main way to travel around the country is a bus. The quality and purity of minibuses differ. They can put a cargo to passenger salon, no air conditioning.
The price is fixed and you can ask the driver, accepted the Kyrgyz Som.
The fare from Karakol to Kaji-Sai was

0,75

USD

= 60 KGS

and a half an hour on the road
From the Kaji-Sai to Bishkek

3,1

USD

= 250 KGS

for 6 hours.
Direct bus from Karakol to Bishkek (400 km) costs

3,8

USD

= 300 KGS

and takes less time for a good road through the north of Cholpon-Ata.
Rail transport in Kyrgyzstan
International trains
By train you can get to Bishkek from Moscow. The station is located in the city. Coordinates:. 42.863869, 74.605706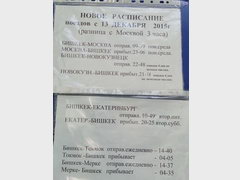 Train schedule from Bishkek to Moscow and Russia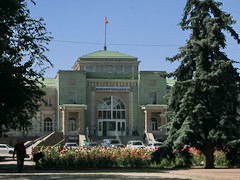 Railway station in Bishkek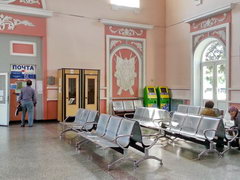 Inside the railway station
Local trains
There are branches from Bishkek towards Issyk-Kul in Balykchy (but it works only in summer and takes 7 hours, on a bus over the same distance - 4 hours) and north to the border of Kazakhstan - Tokmok, Merke.
Passing Cars
Sometimes a passing car is only way to get remote parts of the country. It is necessary to bargain
The cost of gasoline in Kyrgyzstan
95th

0,49

USD

= 39 KGS

92nd 36

0

USD

= KGS

Diesel

0,40

USD

= 32 KGS