Guangzhou and China prices of transportation, hotels and attracions
How to get Guangzhou form Guilin
Intercity buses and rail transport are the most common and inexpensive transportation in China. Here are some examples of prices.
Bus fares
Sleeping bus, equipped with bed-seats, pillows and blankets. The journey takes about 8-9 hours. Cost 25,4 USD = 170 CNY (from Yangsho). Arrive at the bus station (coordinates: 23.151009,113.217335 ). From there by foot you can easily walk to the nearest metro station.
Train fares
Soft Seat

22,4

USD

= 150 CNY

Hard sleep

31,4

USD

= 210 CNY

Soft sleep

47,8

USD

= 320 CNY
Journey time is about 11 hours. Tickets sleep places can only be bought in advance at least one week. Train arriving at Guangzhou Railway Station, which is located in the Northwest of the city. Coordinates: 23.151557,113.252111.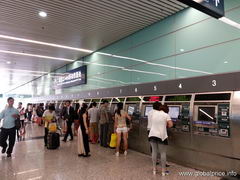 Railway Station in Guangzhou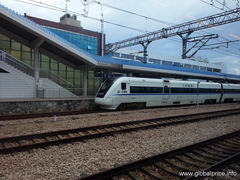 Train form Guangzhou to Shenchzhen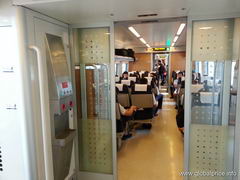 Inside the Chinese high-speed trains
Local trasportation in Guangzhou
Subway fares
Reliable, comfortable and modern metro. The fare depends on the distance, on average 0,30 - 0,45 USD = 2 - 3. CNY You can buy a ticket at the station in an electronic machine that calculates the cost of the trip, take the money and give change. gzmtr.com - here you can find information about the subway and calculate the fare.
Local buses fares
Very good bus links within the city. At many stops printed route numbers with the names of stops. To understand, I advise you to lay your route on Google Map. The fare fixed 0,30 USD = 2. CNY Note that the driver does split money and does not give you change! Ask the passengers, they usually help foreigners.
Cost hotels in Guangzhou
Low cost start at 20 - 25 USD Always read the fine print, which can be specified on additional taxes not included in the price, which are about 15-16%
Pay attention to the location, as the city is quite large and the proximity to the rapid Metro is a significant advantage. On photos are apartments in one of the city's skyscrapers. The cost was about 35 USD (taxes included). It's a complete new apartment with everything you need, including the kitchen. Quality cleaning every day. HeeFun Apartment Hotel GZ Poly World Trading Center
You can view prices, book accommodations and read about the pros and cons of various hotel search engines in my review of hotel and apartment reservation systems
From some luxury hotels (Shangri-La), depart free bus to the main city attractions, including the Guangzhou East Railway Station. Schedule minibuses on you can find at the hotel reception.
Attracions and ticket prices in Guangzhou in China
Library Guangzhou. Free admission. Undegraund Zhujiang New Town metro station, line 3 and 5. gzlib.gov.cn
temple complex Chen Clan Academy. Entrance

1,5

USD

= 10. CNY

Metro Line 1, Chen Clan Academy station, exit D.
Catholic Cathedral. Admission is free. Subway Line 2, Haizhu Square station, Exit B1.
Sun Yat-Sen Memorial Hall. Subway Line 2, Sun Yat-Sen Memorial Hall station, exit C. Cost

1,5

USD

= 10. CNY

Canton Tower. Entrance fee

22,4

USD

= 150. CNY

Subway Line 3, APM Chigang Pagoda. Inside are 4D cinema, an observation deck, a variety of restaurants.
Shamian Island. Metro Line 1, Huangsha station, exit D. Island with old historic buildings. Colonial style 19th century.
Guangdong Museum. 5,000 free tickets per day (Metro lines 3, 5 Zhujiang New Town metro station, exit B1) .
Guangzhou Museum of Art. Metro Line 2 , Yuexiu park station.
Guangdong Museum of Art. 3,000 free tickets per day . Requires your passport. Located on the island Era-shad.
Guangzhou Sculpture Park. Near Baiyun Mountain. Admission is free.
Guangzhou Ocean park. Located at the zoo. chimelong.com
Guangdong Museum of History of the revolution. Admission is free . Metro Line 1, Martyrs' Park station, exit D.
Yuexiu park. Cost

1,5

USD

= 10. CNY

Subway Line 2, Yue Xiu Park station, Exit B1.
Yuntai Garden. Cost

1,5

USD

= 10. CNY

A Tour Bus 1 or 3.
Xiangjiang Safary Park. Cost

26,9

USD

= 180. CNY

Huanghua Gang Park. In Admission is free. Address: 79 Xianlie middle road.
Garden millions of sunflowers. Located in Panyu, Guangzhou Wanqingsha town.
Water rides Chimelong. Open from April to October. Cost

20,9 - 29,6

USD

= 140 - 198 CNY

chimelong.com
Chimelong International Circus. Here you can see the Cirque du Soleil. Cost adult

37,3

USD

= 250 CNY

children.

18,7

USD

= 125 CNY

Baiyun Mountain. Entrance

0,75

USD

= 5. CNY

Cableway

6

USD

= 40. CNY

local tram

3

USD

= 20. CNY

Other Entertainment

0,75 - 1,49

USD

= 5 - 10. CNY

baiyunshan.com.cn
Lianhua Shan (mountain LOTUS). from Guangzhou Metro Line 4, the station take bus Shiji. Also there is a ferry from Guangzhou Tianzi pier. cost of the ferry

3

USD

= 20. CNY

The cost of visiting the mountains

6

USD

= 40. CNY

Cruise on Pearl River. Price

0,75

USD

= 5. CNY

Cruise with dinner

7,5 - 29,9

USD

= 50 - 200 CNY
Read my review of useful websites to buy tickets for sightseeing tours and attractions
Read more: